MAGIC Center Facilities & Research Infrastructure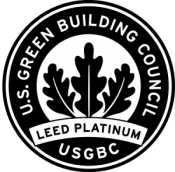 MAGIC is a dedicated environment for the construction, experimentation, and playful design of digital media, and one facet of that is obviously the facilities and resources that serve to enable such activity. The core facility of the center is located in Student Innovation Hall, a multi-million dollar LEED Platinum certified building that is centrally located in the heart of the academic campus, and a key initiative of the Office of the President and the Office of the Vice President for Research. As a part of the MAGIC Center's formation, the building was completely remodeled with one key design criteria: collaboration. Too often, universities focus on hardware or software resources, without a similar focus on community, workflow, design process, or multi-disciplinary collaborative function. In the process of addressing these elements within the center, we focused on 4 major elements, each of which has a structural component within the physical space: immersion, experimentation, production, and mentorship. In addition, two other key factors support and underpin these components: infrastructure and presence.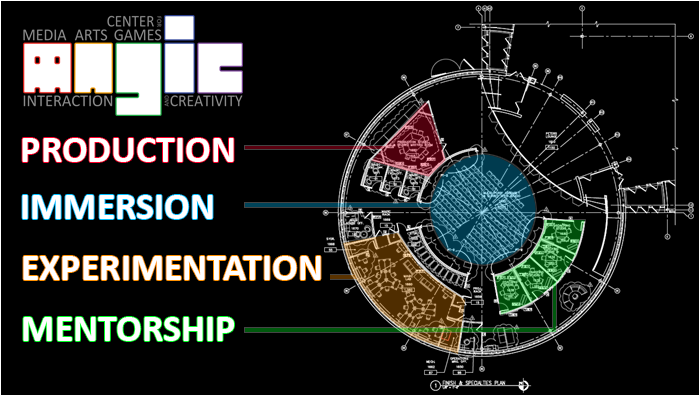 Production
Often in pursuing projects such as those that comprise our work it is necessary for teams to meet away from the development environment, in a more secluded area to plan activities, milestones, and generate ideas. Similarly, once things are proven, established, or at the very least at a proof-of-concept stage, then production schedules, task reporting, and operations become key components of any project of scale. To meet these needs, the Center contains a production studio that functions as a separate space from the laboratory environment, but that is similarly equipped with workstations and projection capabilities, and is linked to the same backbone and infrastructure. This facility is also used for testing and tracking purposes as needed, and doubles as a meeting area for clients and partners as needed, and can facilitate meetings for groups up to 20.
Just as there are needs for formal and informal planning and production scheduling, there are also needs and for informal discussions, engagement, and just generally 'hanging out' as a part of the creative process. The Center has a specifically design lounge space to serve this function, as well as various nooks and tables to share lunch, coffee or tea, or just sit and chat about ideas and dream up new possibilities. The Center is also located adjacent to RIT Global Village, which contains both student housing and numerous shops, restaurants, coffee houses, etc.
Immersion
MAGIC Center facilities are spread across approximately 11,000 square feet in the 'round' portion of building 87. We chose to address immersion in the core area of the center, a round open area that can be configured for a wide variety of uses. All of the furniture is on wheels and can be reconfigured on the fly. The ceilings are high and unobtrusive (15'+ in most areas). The area is ringed with a 270 degree 3 segment wall that serves as a screen for nine high-definition projectors aligned in a seamless display: using this system we can display digital worlds, information displays, and projects in such fashion that they 'surround' the space. This space is used for speakers and presentations, but also films, games, virtual worlds, and experiments of all types. Since the footprint is reconfigurable, it can be used for motion-intensive applications such as physical computing, gestural interfaces, and augmented reality applications. The space is also equipped with a surround sound system and numerous adapters and displays for additional tie-ins to the overall system. Affectionately referred to as the 'holodeck', this immersive area has been used for a wide variety of purposes already, and we've only just begun to scratch the surface of what's possible. This area can seat up to 175 in its most compact configuration, or support courses and lectures of up to 150.


Experimentation
The center addresses experimentation through the operation of the MAGIC laboratory, which is a lab like no other on campus. The core of the lab design is centered on collaboration: it is designed not for individuals but for teams. Building upon the design of the Game Design & Development lab (which was designed by Director Phelps when he served as the Director of the School of Interactive Games & Media) as well as numerous other academic and industry lab facilities, the MAGIC Laboratory is a flagship facility of the Institute, with a unique design that directly facilitates teamwork, collaboration, and engagement.
The lab does not support any course directly, rather it is a supporting element for a wide array of project courses, thesis, research, and experimental activity – it is jokingly referred to as 'academic Switzerland' in reference to this neutrality, but this is actually an important feature of the space: every student, faculty, and project enters the lab as equals, there is no single doctrine of the 'correct approach'. We question everything, and in doing so seek to learn through the careful construction and examination of our work.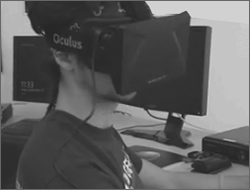 It's pretty much
GEEK HEAVEN
We make sure we have the latest platforms, tools and environments to realize a creative vision that's beyond the cutting edge.
The lab is equipped with 25 state-of-the-art multimedia workstations from Alienware, loaded with a variety of software and hardware tools necessary to support media creation. Each station is dual monitor touch screen enabled, with high speed network to the campus backbone, and numerous network segmentation elements to provide for a variety of experimental scenarios. Software is similarly current, with latest releases of the Adobe Creative Cloud, the Autodesk Entertainment Suite, Unity, Visual Studio Ultimate, and a host of over a hundred other software tools and packages. Each station is also dual-formatted for use with Linux and open source tools, which enables developers to experiment across platforms and browsers. Furthermore, the lab is the home of the Mobile Zone @ MAGIC, and provides phones, tablets, and devices of several varieties, as well as a plethora of other devices including the Raspberry PI, the Oculus Rift, the Leap Motion controller, a Steam Machine, and several other platforms both current and historical. Media is increasingly moving off of the desktop and onto an ever wider array of platforms, and this trend is reflected throughout the design and deployment of the laboratory. Even at a place like RIT, where high technology can seem commonplace, the laboratory stands out as a resource, a facility which represents capability and commitment to our mission. It is a place of building, and thus a place of learning.
Mentorship
Finally with respect to mentorship, the Center shares a suite of coaching and meeting studios with the Simone Center for Student Innovation & Entrepreneurship. Sometimes the simplest solution is best, and there's just no substitute for sitting down with mentors, guides, and teams that have 'been there' and 'done that' before. We work with the Simone Center to pair students and faculty with the right mentoring resources, at the right time and right phase(s) of their work. The coaching studios are equipped with conferencing capabilities, and serves numerous professional and academic colleagues who work with us from around the world in addition to those local to the region.

Presence
One of the key underlying principles of the Center is the notion of presence: artists, engineers, technologists, and makers of all kinds are particular about their space. It is their creative home, their touch-stone, their studio. While the Center works with affiliate faculty from all across the university, the core services of the center are all centrally located in and amongst the various functions described above. The offices of the Director, Assistant Director, the Operations Manager, and the Lab Manager & Systems Specialist are all centrally present, available, and open. Our support network in the Office of Sponsored Research is only one floor away, just below much needed services from Government and Community Relations and the Office of Legal Affairs. The building is also connected to our colleagues in the B. Thomas Golisano College of Computing & Information Sciences that includes the resources and infrastructure of the School of Interactive Games & Media, which is the academic home of several of the affiliate faculty. Thus, MAGIC is 'in the center' of everything, both figuratively and physically, and acts as a collaborative and active meeting ground for all of our constituents.
Infrastructure
Last but not least, the infrastructure that supports all of the aforementioned activities and workflows. In deference to the notion of presence, a portion of our physical infrastructure is housed directly in the Center, both for experimental configuration and for technical capability. This forms the 'bulkhead' of our network, a landing ground from which we service the lab, the production studio, the administrative offices, etc. Numerous additional resources are housed in the Green Data Center in University Hall and accessed through the campus network. Of particular emphasis is that while the physical plant of the Center is critical to its function, we are keenly aware of the need for our researchers and developers to operate from anywhere in the world, at any time. Our infrastructure allows us to provision virtual workstations, servers, and environments for experiments and production projects at a moment's notice, to provide custom solutions to individual projects, and to serve these solutions world-wide. While the Center is grounded in Student Innovation Hall, it lives in the cloud, and is available to our students, faculty, staff, and partners throughout the world 24/7.