MAGIC is a feature story in the Fall 2013 / 2014 issue of the University Research Magazine. Check it out!
MAGIC labs open this Spring in SIH Bldg. 87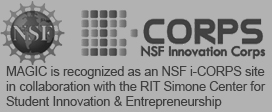 Upcoming Events
Recent News
The RIT MAGIC Center
will lead higher education in the exploration, experimentation, design, development, and deployment of interactive, experimental, expressive and social media.
A New Kind of University Research Center
University
Research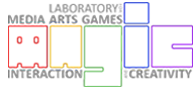 Engage faculty via traditional models of contribution: plans of work, funded release, Summer contracts, stipends, sabbaticals, etc.

Engage students via traditional methods of contribution: hourly positions, work-study, tuition waiver, research stipend, scholarship, etc.

Utilize traditional curricular, experiential & scholarly structures: projects, independent study, thesis, capstone, collaborative courses, shared-credit models, etc.

Support from federal, state, corporate, foundation, private donor & alumni partners: non-profit status, development and alumni relations, government relations, etc.

Partner with other RIT centers, laboratories, institutes, colleges, departments & stakeholders: leverage university partnerships as a campus-wide research center.

Utilize traditional university research support: Human Subjects and IRB, Sponsored Research, ITS, Accounting, University Legal, etc.

University Research: By holding one half of the center directly in the university, MAGIC benefits from the campus and its plethora of resources to support our work.
Commercial
Production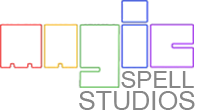 Engage faculty, staff & students via non-traditional models of contribution: Ability to hire as consultant, contractor, and/or professional, through customized IP negotiation, etc. as commonly practiced in the commercial industry.

Private agreements & studio sub-contracts: Ability to negotiable based on market forces and demand, to deal with 3rd party licensed content privately and effectively, and to contract with other commercial entities as needed…

Spawn additional companies and business ventures:Work with the RIT Simone Center for Entrepreneurship and Venture Creations to spawn spin-off companies at both the student and organizational level based on research & development.

Recruit professional experts: Ability to recruit outside the university for needed expertise (both locally and internationally), and engage through both academic and non-academic consulting relationships.

Small Business Funding: Ability to engage as a for-profit entity eligible for SBIR and similar style programs, to court and utilize venture funding or outside investment as appropriate.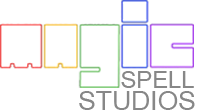 Student Learning Outcomes
In addition to the incredible value of co-op and experiential learning that happens on and off campus the world over (and is the hallmark of an RIT education), MAGIC Spell Studios provides a new and unique learning opportunity for our students. Many of our students come to campus today with ideas for products, services, or entire companies already formed. Often there are classes or directed research initiatives that produce such ideas during their educational experiences, often working with other students, faculty, and staff.
While we have many successful alumni that have formed their own studios (something we very strongly support), others have struggled in the midst of the process of taking ideas and concepts from the classroom to the online store or digital download. MAGIC Spell Studios represents a functional methodology for ideas from anywhere in the RIT community to become realized: it bridges the gap between concept and product in a way that lets students, faculty and staff continue working with each other but in a different context. It creates a pipeline to extend our ability to bring products to the public, and to engage and mentor students throughout that process.