Message fron the Director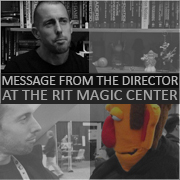 Welcome to MAGIC @ RIT! MAGIC is a new and unique initiative at RIT, and I'm very excited about the work that both I and everyone in the center will be doing in years to come. Broadly speaking, MAGIC will act as the intellectual and creative home for affiliated faculty from within the School of Interactive Games & Media, as well as faculty affiliates from across the university, in ways that recognize and value the unique nature and variety of ways in which we can contribute to this multi-disciplinary field. Specifically, it will work to provide both research and applied production solutions that continue to enhance RIT's exploration of digital and interactive media, games, social software, free and open-source software, simulation, visualization, etc. The Center will seek to engage a wide variety of faculty, staff, students and partners to promote cross- and multi-disciplinary collaboration wherever and whenever possible. In addition, MAGIC will strongly encourage and promote entrepreneurial activities as appropriate to the projects and works produced therein.
In terms of operations and logistics, MAGIC will can be best described as a university-wide research and development center composed of the Laboratory for Media, Arts, Games, Innovation and Creativity, as well as MAGIC Studios, a production environment for facilitating media development and bringing digital projects to scale. My position reports directly to the RIT Vice President for Research and sits outside any of the existing academic colleges or programs, with an emphasis on promoting collaboration and discourse across the various units and programs on campus.
Faculty and researchers from across GCCIS and any other RIT college or Institute may become affiliated with the MAGIC Center depending on the nature and goals of their work. I would encourage you to begin discussions with your collaborators and colleagues! Over the next few weeks and months, I will be working with the administration to more formally define the notion of Center affiliation, the process for moving labs and projects to the new unit, and helping to establish the working relationship between the Center and other RIT entities (the colleges, the institutes, various offices throughout the university, etc.)
I cannot express how truly excited I am by this, nor my thanks to the university for providing us with this opportunity. MAGIC represents an opportunity for the entire university to move forward in our continuing mission of excellence in digital and creative media.
I'll close by saying that I am so very grateful to each and every member of the Interactive Games & Media faculty and staff as we built and established the School of IGM. Working with all of you these past years has been incredible. I look forward to working with each of you in my new capacity as the Director of MAGIC, and to working more broadly with the entire RIT community, and I can't wait to see what we can accomplish.
Sincerely,
Andrew Phelps Director, RIT Center for Media, Arts, Games, Interaction & Creativity
Professor & Founder, School of Interactive Games & Media
Rochester Institute of Technology
www.rit.edu | magic.rit.edu | igm.rit.edu
PS: For those curious about the tag image, a former student of mine (Alex Lifschitz), embarked on an exploration of digital media that involved the creation of a process for 'digital muppet making'. He photographed faculty, built 3D models from the photographcs, unrolled them by the UV coords, printed the coordinate maps on felt, and then stitched the felt back together on the seams to create the puppets. He wrote this process up and published it with Autodesk. It's a wonderful reminder to me of the back and forth between digital and physical tools, the tangled relationship between the virtual and physical world, and the importance of play in our work, and as such I felt it appropriate to welcome viewers to the center.