MAGIC News & Press Announcements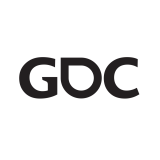 MAGIC heads to GDC2017
With Rochester Institute of Technology celebrating a milestone year in the game design and development industry, more than 100 RIT students, faculty, alumni and staff will travel to San Francisco this week to participate in the Game Developers Conference 2017, the world's largest professional gaming industry event of the year. Read more on our presence at GDC via University News..Read more on our presence at GDC via University News…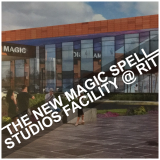 RIT Launches MAGIC Spell Studios Facility
RIT celebrated the launch and groundbreaking of the new MAGIC Spell Studios facility. University and NY State officials were on hand for the event, as well as representatives from Dell, Cisco, and other partners and collaborators. University press coverage is located here and MAGIC is providing an overview page of the new facility, complete with renderings and descriptions of various spaces and capabilities. The new facility is expected to open in the fall of 2018.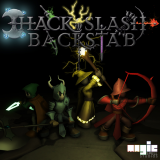 MAGIC Launches Hack, Slash & Backstab
Rochester Institute of Technology will become the first university to publish a video game on the Xbox One gaming platform when Hack, Slash & Backstab is officially launched at noon on Wednesday, Aug. 31. The game, which will be available for purchase for $4.99, will also debut simultaneously on the Steam platform and be available for sale through the digital storefront Humble.  More information is available via University Press Coverage of the launch, and on our social media pages.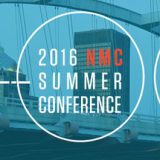 MAGIC Hosts NMC Summer Conference 2016
The Center for Media, Arts, Games Interaction and Creativity (MAGIC) at Rochester Institute of Technology is proud to be the 2016 host site for the New Media Consortium.  We look forward to welcoming you to Rochester!  Please follow us on Facebook and Twitter for up to the minute happenings during the conference – and we'll post information here for coverage from RIT University News.  The international conference will be held June 14–16, 2016, on the RIT campus and at the Rochester Riverside Convention Center.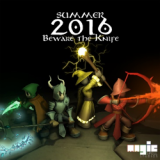 MAGIC Spell Studios Announces Hack, Slash & Backstab
MAGIC Spell Studios is pleased to announce a new title in development, Hack Slash & Backstab. HSB is a multi-player arcade dungeon crawler with a twist!  We've all been there: stack ranking, team projects, student or employee evaluations on a curve – groups of people that need each other, but that are evaluated individually to the detriment of true teamwork. In Hack, Slash & Backstab, we adapt these broken models to a 2-4 player couch co-op dungeon crawler, and use a game setting to seemingly reduce the stakes. Work together as warrior, rogue, wizard and archer to survive a dangerous world. But only one player will be crowned the winner: it becomes a fight to the death, as betrayal and backstab become the tools of choice. The game is slated to release this summer on Steam and XBOX One.  #bewaretheknife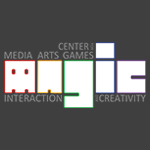 RIT named one of three Digital Gaming Hubs in New York state
Rochester Institute of Technology has been named one of three Digital Gaming Hubs in New York state by Empire State Development. The Digital Gaming Hubs, which also include Rensselaer Polytechnic Institute and New York University, will receive $150,000 each, per year for three years.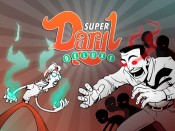 Super Daryl Deluxe
Super Daryl Deluxe takes top prize at two national competitions! Read about the Super Daryl Deluxe team in the RIT Research Magazine.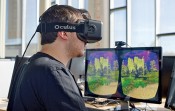 MAGIC Virtual Reality Lab
RIT students and faculty working in a variety of disciplines have studied virtual reality as a way to enhance the user experience in game design and development, film and animation and imaging science. In January, the Center for Media, Arts, Games, Interaction and Creativity (MAGIC) will serve as a home base for developers and practitioners who are at the forefront of emerging virtual/augmented reality technology.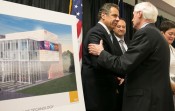 RIT announces investments in MAGIC Spell Studios
RIT today announced $12 million in funding from New York state, $3 million from Dell and $12.4 million from Cisco Systems Inc. that will be used to grow MAGIC Spell Studios, a university program that will link RIT's internationally ranked academic programs with high-tech facilities needed to commercialize computer gaming, film and animation, graphic design and imaging sciences projects. That money will be added to the $1.5 million RIT has already received through the Finger Lakes Regional Economic Development Council, which named MAGIC Spell Studios as a priority project.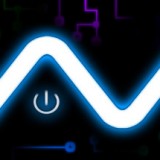 A.V. Now Available on STEAM
MAGIC Spell Studios helped launch A.V. The Game on Steam! You can read more about our work in supporting this project and launching a commercial title on behalf of our recent alumni in the university press coverage. And be sure to go play the game on STEAM, it's a really unique and interesting experience!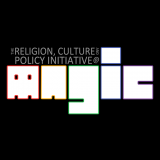 MAGIC Launches Research Initiative on Religion, Culture & Policy
In support of the efforts of Assistant Professor Owen Gottlieb and his collaborators that span academic and industry partnerships, and to better facilitate his explorations into the ways that games and digital media can education, inform, and encourage religious literacy and cultural understandings that impact policy, practice, and community, we are delighted to announce the formation of the MAGIC Initiative on Relition, Culture & Policy. More on this initiative and the research projects associated with these efforts is available on the initiative page at the MAGIC Center.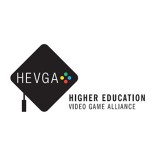 MAGIC Serves as Founding Member of HEVGA
Aspen, Colorado — July 1, 2014 — Announced today at the Aspen Ideas Festival, The Higher Education Video Game Alliance (The Alliance) will provide a platform for leading academics to showcase the critical role video game programs are playing in educating and preparing students for the 21st century workforce. The Alliance will afford its members, including professors and other campus leadership, an opportunity to share and highlight best practices, publish research, initiate and strengthen industry connections, and educate and engage policymakers and the media.
The first-of-its-kind alliance will be led by and open to university faculty, director of game design programs ,departmental heads, and other campus leadership The founding and executive committee members include Constance Steinkuehler, Associate Professor and Co-Director of the UW-Madison Games+Learning+Society center; Tracy Fullerton, Associate Professor and Director of USC Games at the University of Southern California; Andrew Phelps, Professor and Director of the Rochester Institute of Technology MAGIC Center; Drew Davidson, Professor and Director of the Entertainment Technology Center at Carnegie Mellon University; and Katherine Isbister, Associate Professor and Director of the Game Innovation Lab at New York University. The full list of current Charter Members, as well as more information on The Alliance can be found on www.HigherEdGames.org.