Helpful links
---
Here you can find resources to help you develop your prototype, marketing plan, and other required materials in order to enter the challenge. We do not endorse any of the following websites but are only linking to them as helpful resources.
NYS Game Challenge Discord server – find team members and get feedback. Come chat here!
NYS Game Dev Challenge 2017 Winners – article from Governor Cuomo's office detailing the winners of last year's challenge.
Pixel Prospector – Huge resource for indie game developers. Helpful info on development, marketing, graphics, and more.
The Basic Marketing Plan for Indie Games
Kenney Assets – Excellent free art assets.
The Game Pitch in 3 Sentences by Rami Ismail
Game Development Process and Timeline
TIGForums – The Independent Gaming forums are an excellent place to showcase your work and get feedback, as well as inspiration!
Helpful documents
---
NYS Game Challenge – One Pager – PDF of the hand out we had at the kickoff. This lists all general information.
2017 Winners
---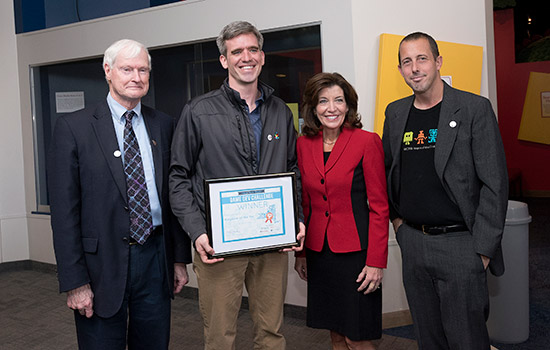 On Monday, May 8th, 2017, we announced the winners of the 2017 NYS Game Dev Challenge at the Strong National Museum of Play. We were joined by Lt. Gov. Kathy Hochul.
Student category
First place—RIT; Nathan Stevens (a fifth-year computer science major from Seneca Castle, N.Y.), Michael Ray (a third-year game design and development major from Bronx, N.Y.); Stephanie Stoner (a third-year 3D digital design major from Lakeland, N.Y.); and Lillian Jialin (a third-year game design and development major) for Kingdom of the Tao.
Second place—New York University; Weiyu "Ivy" Li, Liyang "Lea" Liu, Zijian "Zed" Zhou and Ping "Erenyx" Qiu, all second-year Master of Fine Arts students studying game designat New York University, from China, for Monsterologist.
Third place—Rensselaer Polytechnic Institute; Janice Ho (a junior graphic design/games, simulation arts and sciences dual major from Queens, N.Y.), Diana Nguyen (a junior electronic arts major from Brooklyn, N.Y.) and Neil Clarke (a senior computer science/games, simulation arts and sciences dual major from Geneva, Switzerland), for Phony.
Independent Developer category
First place—Evan Anthony, Jeremy Abel, and Mercy Lomelin, from New York City, for Genesis Noir.
Second place—Matthew Weise and Clara Fernandez-Vara from New York City, for The Myth Machine.
Third place—Waseque Qazi from Buffalo, N.Y., for Shotgun Farmers.