Museum Games & Technology Initiative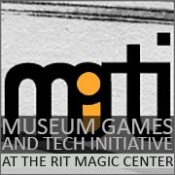 The Museum Games & Technology Initiative
MGTI @ MAGIC represents a broad focus that explores the way in which digital and interactive media resituate the interactions between the public and the museum. The purpose of the initiative is to develop games to support museum collections and exhibits, media to engage participants with specific pieces or collections, and experiences that reframe the exploration of collections and historical artifacts. The eventual goal of our research is to develop a general model and reusable framework for games and media that will improve the accessibility, experience and public profile of museum collections. Projects are generally developed in conjunction with a museum partner (or partners) and include game and media design, supporting material design and assessment standards. Such projects are the first installment of a much larger research initiative that will evolve by individual development of component blocks.
Projects connected to the initiative have ranged in topic and specific methodology, but are generally exploring ways to: 1.) convince non-visitors to visit through interaction(s) with online tools; 2.) create game experiences within the museums to change the way that visitors interact with the museum collection; and 3.) improve visitor understanding of cultural heritage collections via digitally augmented experieces.
Key Programs and Departments Engaged in MGTI @ MAGIC
Game Design & Development, School of Interactive Games & Media, Golisano College of Computing & Information Sciences
New Media Interactive Development, School of Interactive Games & Media, Golisano College of Computing & Information Sciences
New Media Design & Imaging, School of Design, College of Imaging Arts & Sciences
Background and Need for Research
Museums are currently undergoing an identity crisis. In order to remain relevant in today's society, museums are reevaluating and reinventing their role from a passive collection to a 21st century interactive experience. The jury is still out as to how this should be accomplished but games and other interactive media appear to hold promise. The power and allure of gaming to audiences is undeniable and many cultural institutions are wondering how to harness their potential or, as Jane McGonigal put it, "turn visitors into players." Games can offer an immersive experience that many find impossible to resist but how do museums adapt these tools to promote their own agendas?
A multidisciplinary research initiative involving the departments of Cultural Resource Studies, Game Design and Development and New Media is exploring the intersection of games and museums. That games have the potential to teach and create immersive experiences is well documented. Less clear, however, is how they connect with the real world experience of museum collections. Can an online game change viewer attitudes towards a museum and increase attendance? Can online interactive media build context for the viewer so that they have an improved connection to the objects in the collection? Can games used within a museum improve visitor comfort levels and engagement with the collection?
Funding for projects in this initiative varies, and is drawn from a multitude of sources, including private donations, public funds in support of cultural institutions, internal funds, grants from the National Endowment for the Humanities, grants from NCPTT, and funding from the Library of Congress IMLS program and the Preserving Creative America Act (to name a few).
MGTI Projects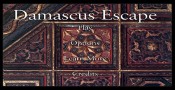 Conservation Gaming
Last spring semester, RIT students collaborated with conservators from the Metropolitan Museum of Art to make educational games about art conservation. Led by Associate Professors Elizabeth Goins and Christopher Egert, the students divided into three interdisciplinary teams to make video games that focused on objects from the museum's collection. Each game required an enormous amount of research into the history, aesthetics, materials and processes of the objects. Students then had to apply the research to the development of a game which would satisfy criteria defined by Met conservators.
Ashira Loike and Beth Edlestein have written about the project in the Metropolitan Museum of Art's blog.
These games are student created and produced throughout their work in a custom course and integrated environment that spans the study of humanities and computing. Students involved (by game) are as follows:
Mask of Agamemnon:John Ceceri III, Steven Bertonazzi, Kirstin Feigel, Alex Nacca, Jake Di Pietro, Daniel Strauss, Andrew Visconti
Damascus Escape!:Eric Bichan, Matthew Ferragamo, Lauren Furushima, Joel Poquette, Katriel Pritts, Derek Roche
Roentgen's Workshop:Julienne Ablay, Veronica Brown, Joseph Lee, Matthew Morse, Amanda Rivet, Daniel Swan, Rachel Varner
Links and Downloads: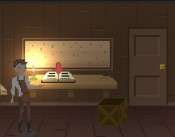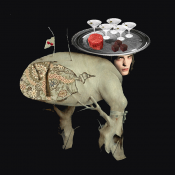 Playing in the Garden of Earthly Delights: Exploring Bosch's Symbolism through Gameplay
News: MAGIC's Bosch project will be presented at Museums and the web Florence. This year the focus is on Open Museums and Smartcities: Storytelling and Connected Culture. Isabelle Jouve, of Ysalide Multimedia, will be demonstrating the project at the event. Elizabeth Goins and Gordon Goodman will also present the project at Museums and the Web, Baltimore in April.
Abstract: Objects connect us to culture. More specifically, they can evoke a particular culture and time by the silent expression of form, function and decoration. Digital objects can be used in virtual worlds to reconstruct not only objects or architecture but also the intangible aspects of the culture that created the original objects. This talk briefly reviews a new collaborative project that explores the intersections of high art, popular and material cultures, history, digital technology and games.
In honor of the 500th year anniversary of Hieronymus Bosch's death, the project focuses on the enigmatic triptych, Garden of Earthly Delights, from the Prado collection. The concept is simple: build a three dimensional interactive space that effectively engages the players, thus encouraging them to experience and learn about the painting and Netherlandish art of the late 15th and early 16th centuries. The Garden of Earthly Delights is filled with obscure symbolism that has fascinated viewers since its creation in the early 1500s. Bosch's work bridges the thematic constructs of medieval Christianity and popular Netherlandish culture. The painting may seem surreal, but is firmly rooted in 16th century thought, custom and technology, contexts that can be understood and explored through gameplay. The construction of narrative through the curation of objects is a familiar concept to the museum world. Less clear is how to bring ideas of narrative construction, educational and material culture into the spaces of games and virtual interactive experiences.
The design approach adopted by this project incorporates some of the latest techniques in using material objects, historic texts and ideas of place to construct narrative driven games. These approaches, used successfully in recent independent and commercial games such as Dear Esther and Gone Home, allow players to participate in narrative construction as they explore a game world and encounter objects and text distributed throughout. The prototype for the project is currently being constructed at the MAGIC center at the Rochester Institute of Technology in collaboration with Ysalide Studio. Built with the Unity game engine, the prototype will allow players to explore a three dimensional world of the painting. Players will interact with objects not only from the Garden of Earthly Delights, but from material culture and texts relevant to the time period. A narrative driven, open world experience, the game incorporates adventure and puzzle game mechanics in order to express educational goals and narrative content. This talk will describe the integration of narrative driven gameplay, art asset creation and educational content into an interactive game that will add to contemporary viewers' understanding of Bosch's work and the questions it raises about human nature.
Links and References: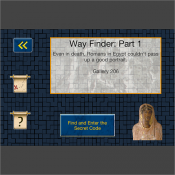 Mosaic
Abstract: Mosaic is a mobile game prototype, not available to the general public, about classic Greek and Roman art in the Getty Villa, Malibu, California. The prototype was developed by Elizabeth Goins, RIT, and Erin Branham, J.P. Getty Trust and it combines a number of different game genres in an attempt to help visitors re-imagine the museum space as a different world.
Links and References: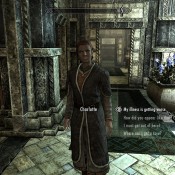 Hysteria!
Abstract: Hysteria! is a Skyrim mod built as an experiment in converting linear narrative into an interactive game. The mod is based on the 19th century short story written by Charlotte Perkins Gilman, the Yellow Wallpaper. Designed and developed by Elizabeth Goins and Lisa Hermsen.
Links and References: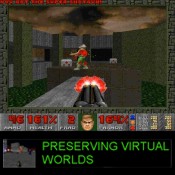 Preserving Virtual Worlds
Abstract: Interactive media are highly complex and at high risk for loss as technologies rapidly become obsolete. The Preserving Virtual Worlds project explored methods for preserving digital games and interactive fiction. Major activities included developing basic standards for metadata and content representation and conducting a series of archiving case studies for early video games, electronic literature and Second Life, an interactive multiplayer game.
Project partners were the University of Illinois at Urbana-Champaign (lead), the University of Maryland, Stanford University, Rochester Institute of Technology and Linden Lab. Second Life content participants included Life to the Second Power, Democracy Island and the International Spaceflight Museum. The Preserving Virtual Worlds project was funded by the Preserving Creative America initiative under the National Digital Information Infrastructure Preservation Program (NDIIPP) administered by the Library of Congress.
Links and References: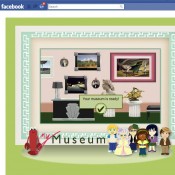 myMuseum
Abstract: The myMuseum was developed by RIT students and faculty from a wide variety of disciplines: Computing, Illustration, Film and Animation, and Cultural Resource Studies. Designed in conjunction with the Luce Center for American Art at the Smithsonian as a way for museums to reach out to teens and young adults, myMuseum is an educational game that is also fun! The prototype was unveiled at Imagine RIT.
Links and References: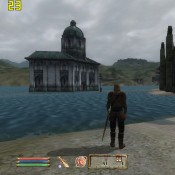 Oblitus Artium
Abstract:Oblitus Artium, funded by the Natioanl Center for Preservation Training and Technology/ the National Park Service, is a video game mod (module) for preservation training and outreach. The module was developed within an existing game platform Elderscrolls IV: Oblivion. By using an existing game for the mod/prototype, the project was able to focus on creating multiple game narratives and assess how well they delivered preservation and conservation educational goals and outcomes. After completion of the module development, the three different narrative strategies were assessed through incorporation into college curricula and classes at the Rochester Institute of Technology and the University of Delaware. Although played on a commercially licensed game engine, the mod itself is open source.
The mod itself is made up of four overarching game arcs or quests that, all together, make up about 5-7 hours of gameplay depending on player experience. Each major quest is based around preservation based learning goals and outcomes:
1. Conservation Tutorial
2. Getting to Know the Collection
3. Health and Safety
4. Managing the Environment
5. Nefertari's Tomb
6. Pigment Analysis
7. Archimedes Palimpsest
8. The Trustee's Quest
Assessment in class, both at RIT and the University of Delaware, determined that students overall engaged with the material in a more meaningful way than the previous lecture based delivery. Feedback from students was used to improve the integration of game play and educational goals. In addition, a walkthrough and an Educational Guide were prepared to help educators in other institutions use the mod in their classrooms.
Links and References: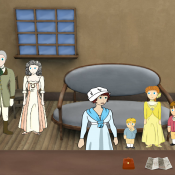 Pox and the City
Abstract: Pox and the City, funded by NEH Digital Start Up grant, is a high level prototype that explores the social history of late 18th century medical practice and the invention of the smallpox vaccine.
Game overview and experimental focus: There is an increased awareness within heritage preservation and history that the invisible part of any culture, including intangible heritage associated with material objects, is an important aspect of understanding the past. Video games have the potential to immerse players in an interactive world. However, educational history games have been fairly limited in their approach and have tended to ignore the social and cultural aspects of history. Pox and the City is a role playing game that explores narrative and gameplay strategies in order to focus on the social history of smallpox vaccination. The basic design of the game is based on the three body problem: that medical progress depends on the interaction of the doctor, the patient and the disease. Players have to successfully interact with different social classes, make business decisions and treat patients with a number of different illnesses in order to complete the game. In addition, the project brings in archival documents as primary source material that the player must access through the library in order to complete minigames and quests. The gameplay of Pox and the City focuses on social interaction rather than abstracted plague mechanisms to express the complex historic social issues that faced early 19th century doctors in Edinburgh, Scotland.
Links and References: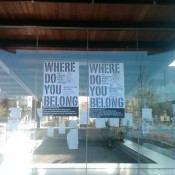 Secret of the Sentinel
Abstract: Somewhere, locked within its steel form, the Sentinel keeps a secret long forgotten. Join the adventure where you will use your powers of deduction to unravel clues that lie scattered over the campus. Play this family friendly alternate reality game as you explore the Imagine RIT festival. Complete the challenge to be eligible for the grand prize drawing for an iPod Touch.
Every player will receive a copy of Winter, a short manga created by an RIT graduate student, Sihoon Kim and RIT faculty.
Links and References: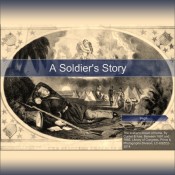 The Night Before the Battle
"The Night Before the Battle," an oil painting by James Henry Beard, was created near the end of the American Civil War. How do we begin to know what it felt like to be a soldier in that war? The artist, who was a soldier in the Union Army, paints a grim picture that helps us understand.  How was this painting understood in 1865? How is our understanding different now? Solve a series of riddles and come to see the painting more as a viewer in 1865 might have understood it. Learn what it might have been like to have been a soldier fighting on either side of the Civil War, and see the context in which Beard painted this charged and enduring work."
NOTE: Since these pieces are currently being prepared for installation on the MAG web site in a staging site on the IGM server and are not yet ready for public release, they are in password protected directories until release.
1. Scavenger hunt for clues in the painting to discover the contents of a letter from a officer in the painting to his wife and his commanding officer after the battle, this game encourages a player to examine the painting closely to find the many clues that were embedded in the painting to provide a narrative about the battlefield conditions of soldiers in a fortification awaiting a battle the next day.
2. Interactive timeline of Civil War history (political and military events) in conjunction with the life events and works of James Henry Beard) and American art from the civil war era in the MAG collection, this was intended to provide linkage between this and other paintings and the event of the American Civil War so that middle school teachers could use art to motivate a study of American history.
3. A Soldier's Life (civil war soldier) interactive narrative – an attempt to make the lives of the soldiers depicted in the painting (and soldiers on the Confederate side) more concrete and to provide historical context and perspective in which to understand the painting, a user makes a series of choices the consequences of which determine the personal outcome of the civil war by picking sides (Union vs. Confederate), personal background (farmer, city dweller, freed slave) and other decisions that faced enlisted and drafted soldiers:
Sincere Thanks to the following MAG Personnel for making this work (and other projects below) possible:
Susan Dodge-Peters Daiss, former McPherson Director of Education, currently Senior Associate, Division of Medical Humanities and Bioethics, URMC/MAG
Marlene Hamann-Whitmore, McPherson Director of Education
Lu Harper, Art Librarian and Webmaster
Marjorie Searl, former Chief Curator (retired)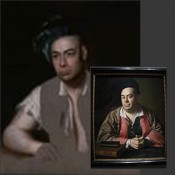 About Face
About Face: Copley's Portrait of a Colonial Silversmith was an interactive installation in the Gallery for a special exhibition. It explored the lives and work of two artists within colonial Boston prior to the outbreak of the American Revolution: portrait painter John Singleton Copley and silversmith Nathaniel Hurd and coincided with the display of the unfinished oil painting of Nathaniel Hurd that is part of the MAG's permanent collection with the finished version that was on loan from the Cleveland Museum of Art for this exhibition.
The installation was live at the MAG ~1999.